Simply Not Nice at All!
What more can I say; this was one of those days that I really shouldn't have flown. The conditions were not nice at all. Several of us watched one pilot launch, get thrown around and loop back for a top landing. The following discussion with said pilot confirmed everyone's suspicions that it really wasn't nice up there.
A high-pressure system was dominating the UK bringing with it some very overdue northerly winds, however, despite the wind strength, the air simply didn't want to go upwards - it mostly bumped around things. We all watched two sail panes scratching no more the 200 feet above ridge height.
After over 2 hours of waiting around I decided to give it a go. I was assisted to launch by some very expectant pilots (all waiting to see how I'd get on I figured!). As I was positioned on launch the wind seemed to drop off a little and that was my queue to go. It didn't take much effort to get the glider into the air, but no soon had I launched I met some horrible air. I pretty much used all my roll authority just to keep the glider going in the rough direction I wanted it to. Lift appeared to be non existent and I barely maintained as I headed in an easterly direction along the ridge to the bowl. Several times my glider was turned involuntarily towards the hill and I fought with the glider just to maintain direction. This really wasn't fun!
After two beats in the bowl I decided enough was enough and decided to bottom land. From the east end of the bowl is a little spur of land heading out into the valley. I was able to soar this for 2 beats, probably 40-50 feet above the trees until I decided it prudent to land.
The landing approach was perfect, wings level and into wind. Just as I started my flare the wind suddenly switched direction by 45 degrees. All I could do was to maintain my flare. The glider started moving sideways and I repsonded my swinging my legs to the right to meet the ground. All turned out okay with a simple side step landing.
I was now in the middle of the bottom landing field so I unclipped myself (just in case) and started to move the glider to the edge of the field. It was at that point I noticed a group of horse riders approaching from the east along the byway. I was still 200-300m in the field but decided to stop and wait for the horses to pass by before I continued to the edge of the field and dropped the glider.
The riders seemed to be quite interested in me as I waited for them to pass. As the 2 lead riders passed behind a bush I heard a commotion and watch a horse run back the way it had come without rider. Oh crap I thought! The remaining riders disembarked and I quickly dropped the glider and walked over to see what had happened (I guessed someone had been thrown!).
It turns out I was right; one lady was thrown from her horse. Although I was some way off, the 5 year old horse hadn't seen a glider before and was sufficiently spooked! Fortunately all was well and I made sure rider and horse were okay. I had a chat with the women, there was no animosity towards me and they said it's one new experience for the horse. I even said a hello to the horse who had now calmed down a little!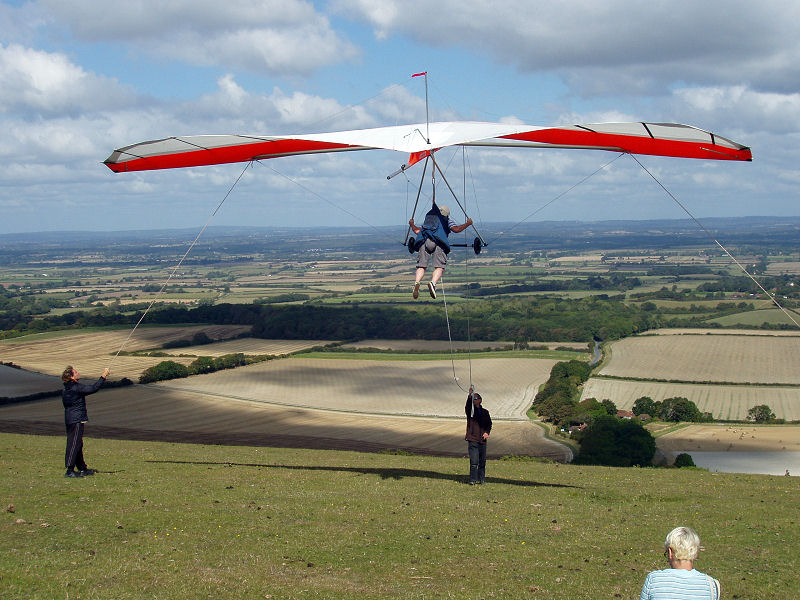 Tether Training at Bo Peep
South Downs Hang Gliding, tether training students on a windy day at Bo Peep. The glider is effectively flown like a kite using tethers. The instructor normally holds the nose tether to control pitch and 2 assistants will stabilise each wing. The student rides the glider and floats above the ground being able to get the feel of the glider and applying gentle control inputs.
13 Sep 2009

Flight Details
| | |
| --- | --- |
| Flight Type | Hill Launch |
| Glider | AirBorne Sting 3:168 |
| Site | Bo Peep |
| Launch Date/Time | 13 Sep 2009 / 00:00 |
| Height Gain | 0ft |
| Flight Duration | 0h 05m |
| Comments | Horrible for flying, high pressure, air not wanting to lift very bumpy air. Bottom landed for safety. |