Hard Work Rewarded at the Devil's Dyke
I didn't bother with the Devil's Dyke on the Saturday, although it was north-westerly, it didn't look strong and that meant lots of paragliders. Besides, Sunday's forecast looked like a hang gliding only day!
Arriving at the Devil's Dyke it was certainly strong and the sky looked very inviting. Small little fluffy clouds were forming and that meant thermals! The sun was also out and I opted for the first time this year, not to use my flying suit.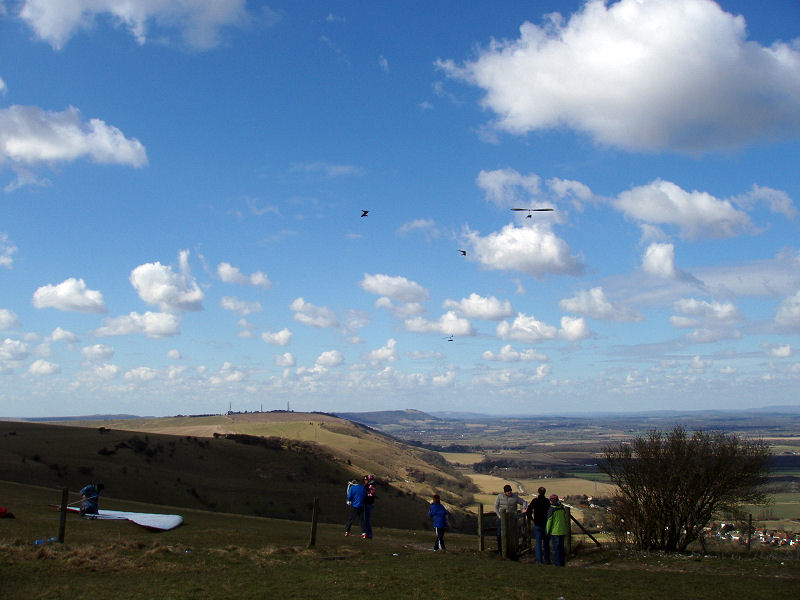 Devil's Dyke Launch
That sky is looking very inviting!
14 Mar 2010

It wasn't long before I was ready for launch. After being assisted to a suitable launch spot I launched and immediately went vertical - wow, this was strong. Grabbing the base bar and pulling in I stabilised the glider and started to penetrate forwards. It was certainly strong and there seemed to be thermic lift everywhere! I didn't do too many 360's as each time I did, I found myself blown back over the Devil's Dyke. However, with a few 360's and s-turns when my vario beeped, I found myself well over 1000 feet above the Devil's Dyke. A new personal best at the Dyke!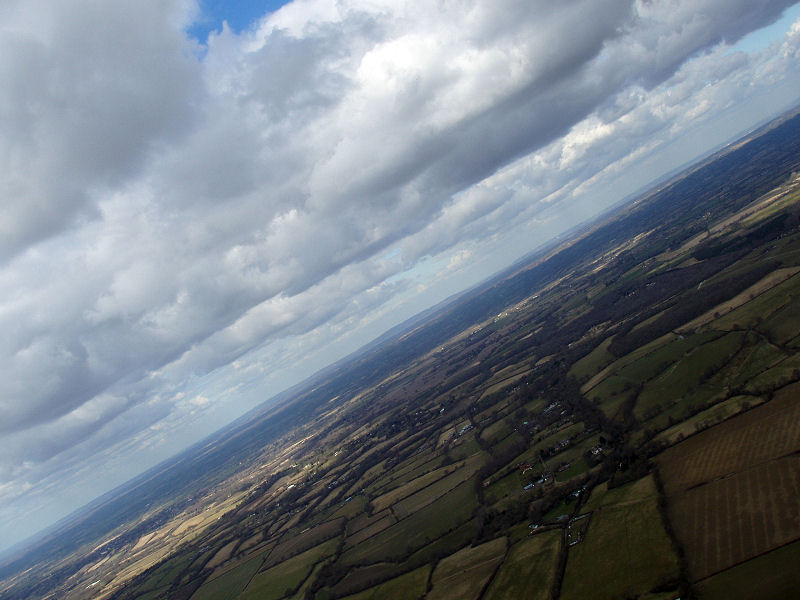 1000 feet ATO
A quick snap at over 1000 feet above the Devil's Dyke.
14 Mar 2010

All this lift followed by sink soon took its toll and my arms were now complaining. Next task of the day, top landing in the paddock! First attempt, way too high and followed by the usual overshoot! Second attempt, perfect and a short walk back to the fence where I collapsed the glider.
Ouch, everything seems to be aching, arms, neck back! It was time for a much deserved break and some socialising!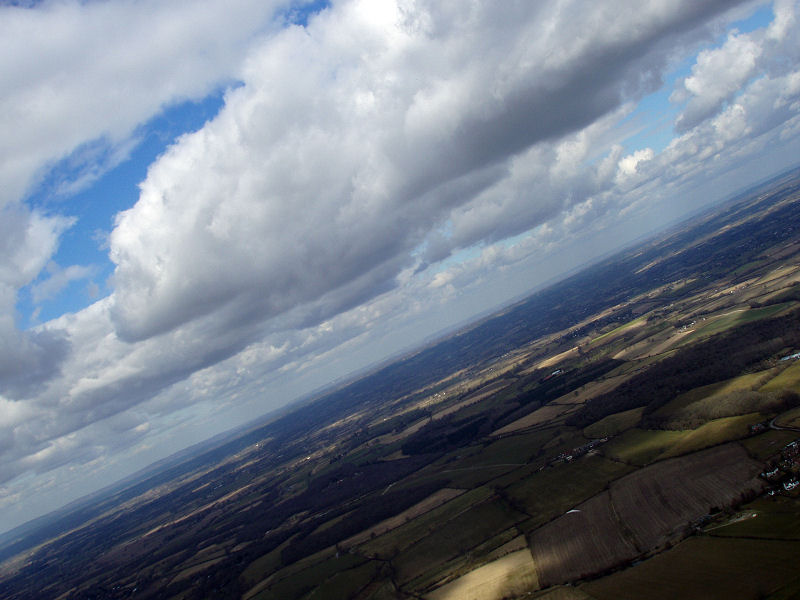 On Top!
Another quick snap taken well over 1000 feet above the Devil's Dyke. If you look closely you might be able to make out another glider beneath me.
14 Mar 2010

An hour later, and some, but not all of the aches were diminishing. I returned to my glider and with help from John, launched. It was still very strong but this launch was much better than the last. This time the air was a little bit smoother but this also meant I couldn't get quite so high. After over forty minutes I was ready to be on the ground heading home. It was just a matter of another top landing! First attempt, way too high, second attempt, too high, third attempt, too high, forth attempt too high so I turned back to the large landing field. That attempt was the closest, but I still ended up swooping over some people and entering the lift band. Fifth attempt, starting my approach to the paddock from an altitude of 150 feet above takeoff seemed to do the trick. I was down and promptly helped by John to the side of the field. That was enough for me today, but what a day!
Flight Details
| | |
| --- | --- |
| Flight Type | Hill Launch |
| Glider | AirBorne Sting 3:168 |
| Site | Devil's Dyke |
| Launch Date/Time | 14 Mar 2010 / 00:00 |
| Height Gain | 1223ft |
| Flight Duration | 1h 00m |
| Comments | |
---
| | |
| --- | --- |
| Flight Type | Hill Launch |
| Glider | AirBorne Sting 3:168 |
| Site | Devil's Dyke |
| Launch Date/Time | 14 Mar 2010 / 00:00 |
| Height Gain | 797ft |
| Flight Duration | 1h 06m |
| Comments | |