Barbed Wire Isn't Good For Gliders!
Driving towards the Devil's Dyke along the A23 I couldn't see anyone flying; something inside me always prefers to see other pilots on the hill!
Arriving at takeoff I felt a little easier as a couple of pilots were slowly rigging their gliders, however, stepping out of my car and feeling the strength of the wind made me feel a little uneasy.
After a few moments of walking around taking wind measurements (12-22 mph), I realised summer was over and winter was knocking at the door. I returned to the car and donned my flying suit.
A couple of hangies were now taking to the air, but myself and Mark were not convinced. At least an hour passed and the wind to me felt like it wasn't gusting as much so I fetched my glider and started to rig it. I started to struggle attaching the nose wire. Eventually, with the help of 2 other pilots it was secured and I was clipped in.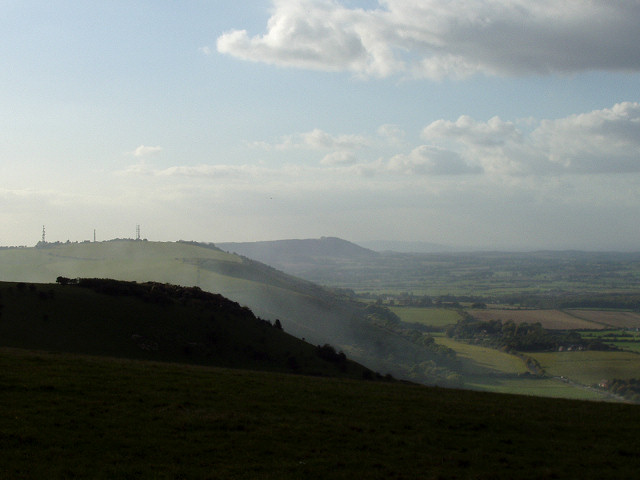 The Truleigh Run
The smoke from the fire below shows that the wind direction means the Truleigh run is on!
16 Oct 2009

Now the Sting 3:168 has quite a large sail area and the gusty wind was certainly doing its uttermost to throw me. Eventually I was assisted to the edge of the hill. The wind was well off to the north so a tricky crosswind takeoff was needed. Fortunately, a lull in the wind gave me the opportunity to launch; keeping the bar pulled in I accelerated the glider as much as a could for an extra safety margin. Once airborne it was a dash across the bowl to the north facing ridge. Immediately I connected with lift and continued in a westward direction.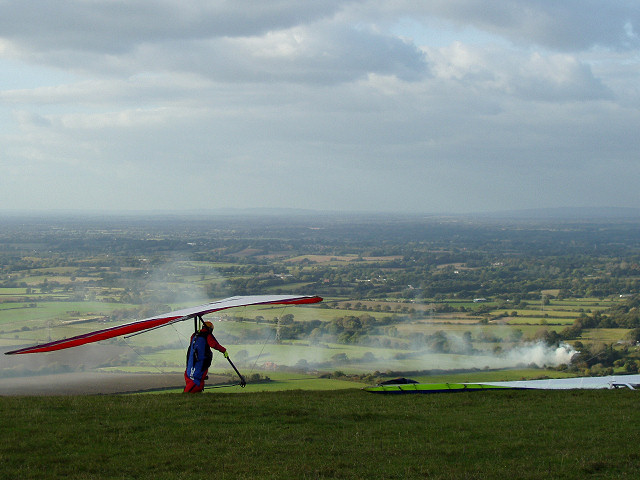 Chris Preparing to Launch
Chris prepares to launch his glider for his final flight. The fire in the valley below shows us the true wind direction; this is going to be a cross-wind launch.
16 Oct 2009

For the given wind strength, it wasn't that buoyant (must have been a high pressure system). Upon reaching the Pylons I started maximising as much lift as I could find. My goal today was to finally reach Truleigh Hill (although I'd been close in the past, I'd not made it all the way along!). Whilst maximising my height I was buzzed several times by some very fast sailplanes. I remember thinking, this must be what it's like for paragliders when us hangies woosh by!
Finally I was confident enough to dash across the Pylons and after some rough air arrived at Truleigh Hill for the first time. Truleigh Hill is basically a great big bowl and I found the air here to be exceptionally smooth. It reminded me of that air at Woolacombe earlier in the year. I felt pretty comfortable so I folded my arms and rested my elbows on the control bar. I was unable to zip my pod up because my puller wasn't on the Velcro fastener (it must have been trailing behind me somewhere) and my legs were becoming a little numb from pushing out, so Truleigh Hill gave me an opportunity to have a good wiggle and get the blood pumping again.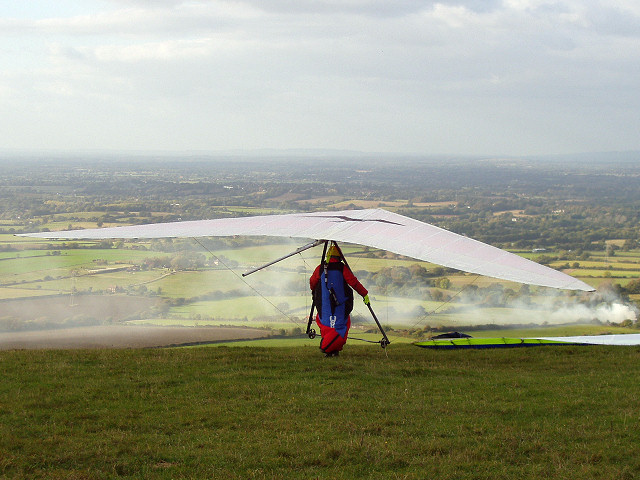 Chris Preparing to Launch
Chris prepares to launch his glider for his final flight. The fire in the valley below shows us the true wind direction; this is going to be a cross-wind launch.
16 Oct 2009

Eventually I returned to the launch area. The air here was pretty rough in places and my arms were certainly complaining (I'm simply not used to this sort of flying). After several attempts at top landing I was getting tired and frustrated. On my fourth attempt I was in a kind of now or never mood. Again I came in way too high but being adamant to get down I slowed the glider right down and started to drift backwards. All the time I was slowly getting lower, this looked like it would work, slowing the glider down to mush speed, drifting backward then accelerating. Eventually I was low enough to attempt a proper top landing. It was pretty difficult to judge wind direction so I assumed it was northerly. This meant I'd approach the paddock heading directly towards the pub. Unfortunately this meant towards all the parked gliders and the barbed wire fence. As someone commented later, I almost got away with it but at the moment I touched down, a sudden strong gust of wind caught me unawares, lifted my nose and almost ground looped me. My kingpost and the barbed wire fence stopped me going all the way over. Very quickly, all the other pilots got me the right way up again and that was that. The only damage: two slight scratches on the right leading edge.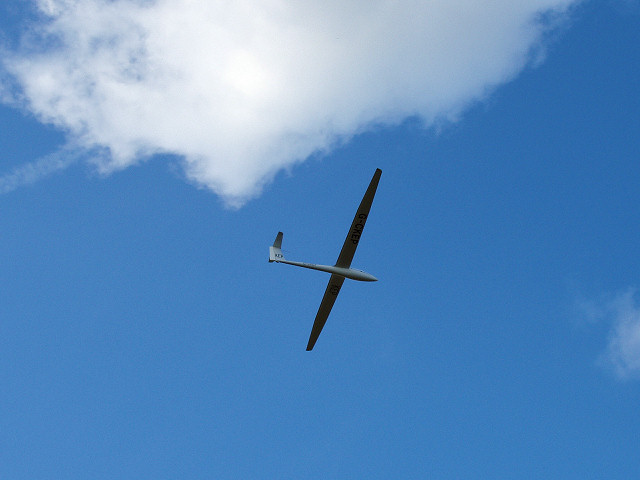 Sail Planes
One of the four sail planes flying with the hang gliders at the Devil's Dyke.
16 Oct 2009

Flight Details
| | |
| --- | --- |
| Flight Type | Hill Launch |
| Glider | AirBorne Sting 3:168 |
| Site | Devil's Dyke |
| Launch Date/Time | 16 Oct 2009 / 00:00 |
| Height Gain | 525ft |
| Flight Duration | 1h 00m |
| Comments | N; strong and gusty. Initially overcast but clearing. Air was rough in places. |