Flying Year 1999
The following entries are available for this year:
Other Bloggers
Swanborough With South Downs Hang Gliding
I was still seeking my flying confidence after I had completed my CP training. John Barratt from South Downs Hang Gliding once again invited me out to join in with the school. I admit to feeling somewhat guilty about taking John's time like this, but was also grateful for the opportunity and the excuse to fly.
What followed was an enjoyable afternoon on the hill with some of John's students followed by a short top to bottom on my Calypso.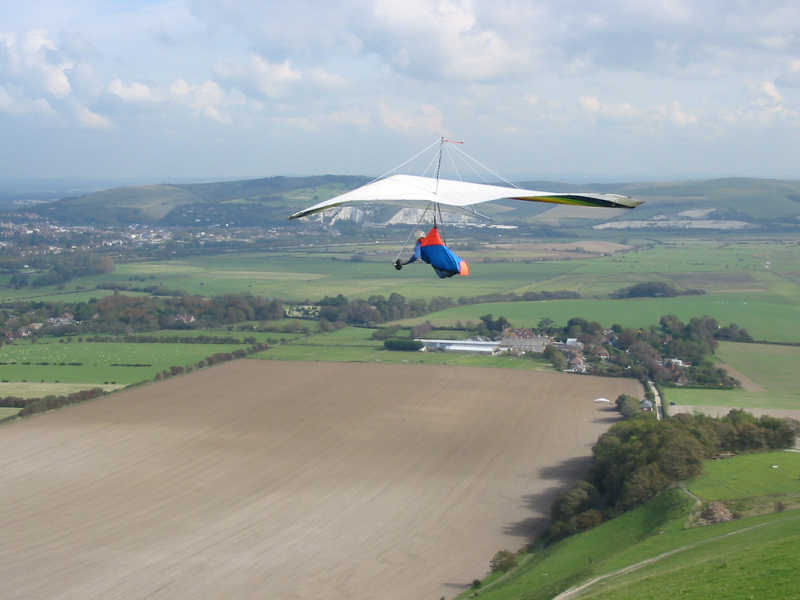 Swanborough
A hang glider soaring at Swanborough (photo 'borrowed' from South Downs Hang Gliding).
21 Aug 1999

Flight Details
| | |
| --- | --- |
| Flight Type | Hill Launch |
| Glider | Airwave Calypso |
| Site | Swanborough |
| Launch Date/Time | 21 Aug 1999 / 00:00 |
| Height Gain | 0ft |
| Flight Duration | 0h 03m |
| Comments | NE wind, minimal lift, top to bottom (with J. Barratt). |