Mooove Out The Way
After managing to leave work on time I was able to get home, recover my glider and kit, and head to the Devil's Dyke. On arrival it was strong and I debated with myself about flying another day, but after I watched others fly and with the knowledge that the Sting 3 has an effective VG, I decided to give it a go.
Prior to launch I pulled on 50% VG. If it was going to be a case of gale hanging I wanted some confidence that my glider was going to penetrate through the area of 'accelerated air flow' sufficiently. Standing at the front of the hill with this VG setting, the glider felt stable. Nicos kindly assisted with my launch and as I instructed 'release', he dived out of the way and I accelerated my glider down the hill.
I took to the air with relative ease and penetration was ok. After a couple of beats back and forth on the main pub hill, I crossed the bowl with the intention of doing the Truleigh Run. There was more of a northerly component than a westerly in the wind than I had realised which made my westward progress towards Truleigh a little faster than I had expected. I arrived at the Pylons about 100 feet above the ridge. Getting climbs proved to be a little more of a challenge, but maintaining this height was quite straight forward. As I crossed the pylons, I hit lift giving a boost to my height as I continued to Truleigh.
As I arrived at Truleigh Hill, I was rewarded with a climb taking me to 500 feet above takeoff. It was quite lonely at Truleigh wih myself and Chris T flying there (I excluded the rigid wing that was several hundred feet higher). After exploring the air, I started my return journey back to the Dyke. Progress was much swifter and I didn't need to turn at any point to maintain height.
Back in the main bowl, the traffic was moderate and the wind seemed increasingly stronger so I decided to repeat the Truleigh run for a second time. As before, height gains were minimal, most likely due to the time of day, so I concentrated on efficient flying whilst maintaining an eye on potential bottom landings should I need one. What I thought was a Kestrel hunting amused me for a while and I considered sneaking up on it, but decided against it.
Back at Truleigh for the second time I again enjoyed the scenery but this time wasn't rewarded with any significant height gains. Fearing the wind may drop and with the sun starting to get low, I decided to return to the Dyke and conclude my day. Like my earlier return along the ridge, progress was quick and I arrived back at the Dyke itself in good time. Considering the wind strength it felt scratchy and trying to get height for a top landing was a bit of a challenge. That said, on my first attempt I was way too high. As I gently skimmed the top landing field, unable to get my feet on the ground, I overshot. It was at this point things started to get interesting.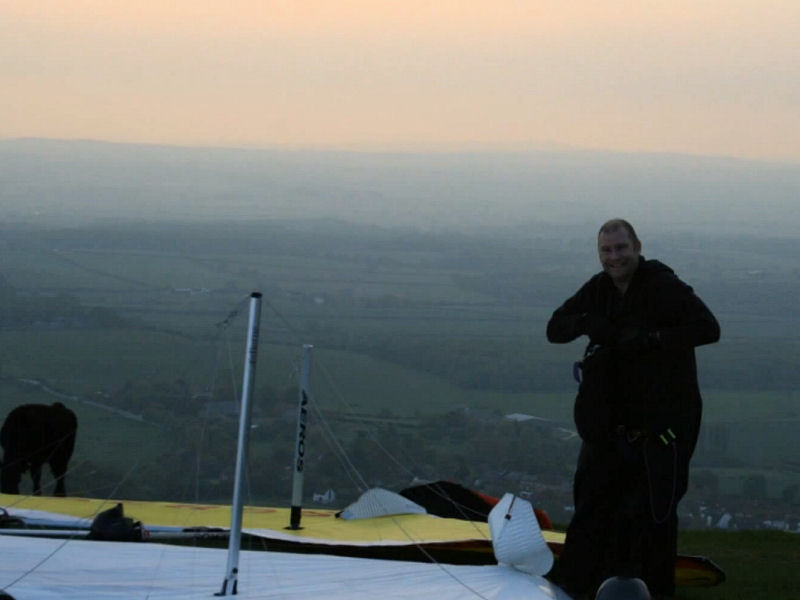 The Day Drawing to an End at the Devil's Dyke
The Day Drawing to an End at the Devil's Dyke: Photo: Nicos
21 May 2012

The top landing field was the place to be if you were a cow and the grass was certainly greener here. Unfortunately on my first top landing I overshot. As I skimmed across the ground, I realised that I had not slalomed a hang glider before and after negotiating the first two cows, a third appeared right in front of me. With eye to eye contact I wondered who would flinch first? Just as I considered running along the cow's back, it flinched and literally leapt out of my way. With the cow successfully negotiated, I was free to fly away from the ridge for a second landing attempt.
The wind had very evidently increased and I hovered for about 40 seconds and about 50 feet up before I very slowly penetrated forwards. After a few more beats I was high enough for a second attempt. This time, I touched down perfectly in the centre of the Paddock and Paul L was conveniently placed to grab my nose wires.
As I packed up the sun slowly slipped towards the horizon colouring the sky with a nice shade of orange; what a great way to spend the evening - shame the pub was shut!
Flight Details
| | |
| --- | --- |
| Flight Type | Hill Launch |
| Glider | AirBorne Sting 3:168 |
| Site | Devil's Dyke |
| Launch Date/Time | 21 May 2012 / 18:30 |
| Height Gain | 200ft |
| Flight Duration | 0h 45m |
| Comments | Lovely afternoon flight after work; missed approached at the Dyke and an interesting slalom between all the cattle in the landing field. Went around and top landed. |