Light Towing!
Lots of people were signed up to fly today as it looked to be an interesting day, possibly one of the last good days of the year! Winching operations were a little slow to start which was good for me as my glider was short-packed and I needed this time to rig.
As more and more pilots were nearing launch readiness a helmet queue was formed and it wasn't long before my turn came. For some reason I was feeling a little rusty but as I commenced my launch it all came back to me. The wind was very light and I don't think I was much higher than 600 feet when I released. Immediately I connected with something and began to 360. It was certainly a tight thermal and I fell out the side of it on more than one occasion but eventually my luck was exhausted and it was time to land.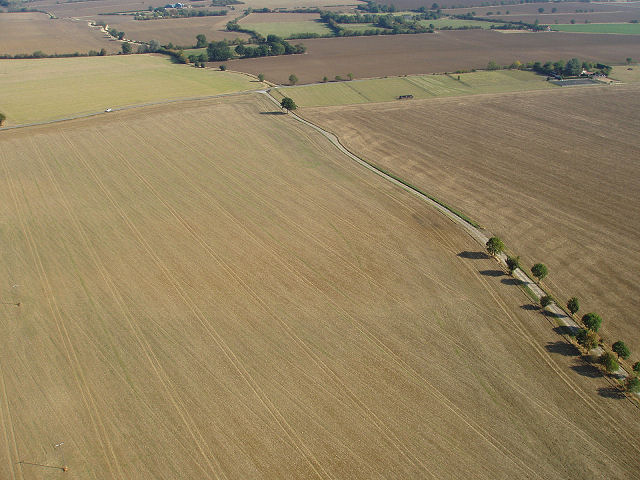 Mendlesham from the Air
Experimenting with photography from the air. Here the camera is mounted on the right upright, pointing slightly downward. After towing to around 500 feet I try to exploit a weak thermal but eventually fall out of it and start flying downwind back towards the launch. This is when I had an opportunity to snap a picture. When this photograph was taken I was flying east along the southern boundary of the Mendlesham winching field - not a great photograph but more to come in the future when I master the right technique!
27 Sep 2009

On the final stages of my landing approach the wind switched 90 degrees but it was too late to do anything about it. My now sloppy landing technique resulted in landing on the runway (good), but sliding across it on my knees and wheels! How embarrassing!
My second flight of the day was a similar affair but being more determined to better my landing I kept my head up during my approach as not to confuse my airspeed with ground speed (I think that's what I'd done earlier!). The net result was a perfect no step landing on the runway!
Much later it was time for my third and final tow of the day. Will was waiting to launch in front of me but the wind was now switching from nil to a tailwind. After 15 minutes of baking in the sun I was invited to launch instead of Will, so I did. It was certainly a nil wind takeoff and required quite a sprint before I lifted from the ground. I then made the mistake of popping my nose up; this in turn led to a bank to the right that I eventually corrected, but there were a few moments of thinking this doesn't feel too good!
The remaining flight was uneventful. All thermic activity had now shut down so it was simply a dash back to launch to land and pack-up.
Flight Details
| | |
| --- | --- |
| Flight Type | Winch Launch |
| Glider | AirBorne Sting 3:168 |
| Site | Mendlesham |
| Launch Date/Time | 27 Sep 2009 / 00:00 |
| Height Gain | 600ft |
| Flight Duration | 0h 05m |
| Comments | W-N, light wind, blue sky, slightly thermic early on. |
---
| | |
| --- | --- |
| Flight Type | Winch Launch |
| Glider | AirBorne Sting 3:168 |
| Site | Mendlesham |
| Launch Date/Time | 27 Sep 2009 / 00:00 |
| Height Gain | 600ft |
| Flight Duration | 0h 05m |
| Comments | W-N, light wind, blue sky, slightly thermic early on. |
---
| | |
| --- | --- |
| Flight Type | Winch Launch |
| Glider | AirBorne Sting 3:168 |
| Site | Mendlesham |
| Launch Date/Time | 27 Sep 2009 / 00:00 |
| Height Gain | 500ft |
| Flight Duration | 0h 04m |
| Comments | W-N, light wind, blue sky, slightly thermic early on. |