Winching in Suffolk
It had been a while since I visited the towing fields of Suffolk, and with the season slowly drawing to a close, it was time to return for one last day.
The southerly forecast suggest Mickfield as the site for the day and as I arrived, everyone was readying the airfield. I parked the car next to the hedge in the field then removed and rigged my glider.
The wind was stronger than the forecast had suggested and as my turn on to launch came around, I was feeling a little nervous. As soon as the launch started I concentrated on the flying. After around 200 feet, I could feel the tension building on the towline when the weak link conceded ending the tow. There was sufficient height for me to loop around back launch where I safely touched down.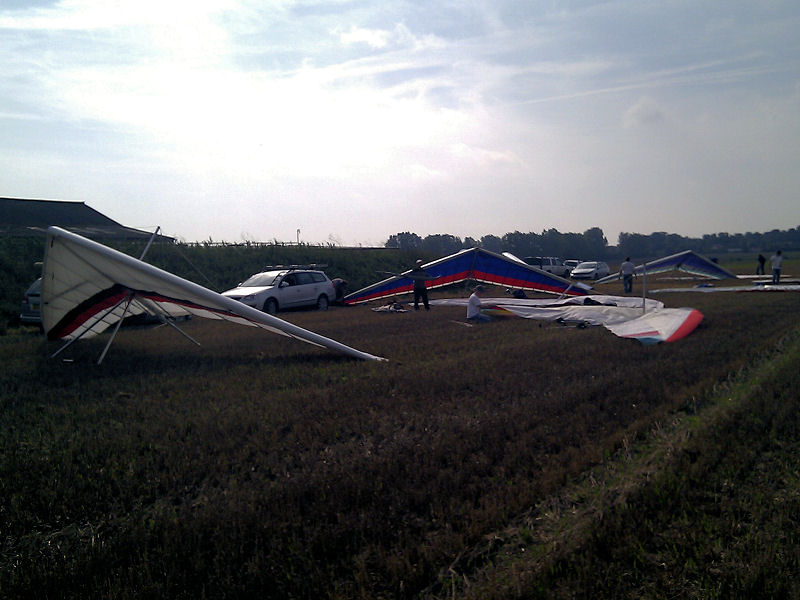 Rigging at Mickfield
Rigging gliders at Mickfield Hall, Suffolk.
3 Sep 2011

Three more successful flights followed, but with conditions being far from ideal, after my final flight, I flew the short distance to the Mendlesham hanger. After landing I packed up and eventually set off for the return journey to Sussex.
Flight Details
| | |
| --- | --- |
| Flight Type | Winch Launch |
| Glider | AirBorne Sting 3:168 |
| Site | Mickfield Hall |
| Launch Date/Time | 3 Sep 2011 / 11:30 |
| Height Gain | 0ft |
| Flight Duration | 0h 01m |
| Comments | First tow in a while; weak link failed. Looped around and landed. |
---
| | |
| --- | --- |
| Flight Type | Winch Launch |
| Glider | AirBorne Sting 3:168 |
| Site | Mickfield Hall |
| Launch Date/Time | 3 Sep 2011 / 12:00 |
| Height Gain | 0ft |
| Flight Duration | 0h 05m |
| Comments | Difficult conditions - no lift. |
---
| | |
| --- | --- |
| Flight Type | Winch Launch |
| Glider | AirBorne Sting 3:168 |
| Site | Mickfield Hall |
| Launch Date/Time | 3 Sep 2011 / 13:30 |
| Height Gain | 0ft |
| Flight Duration | 0h 05m |
| Comments | Difficult conditions - no lift. |
---
| | |
| --- | --- |
| Flight Type | Winch Launch |
| Glider | AirBorne Sting 3:168 |
| Site | Mickfield Hall |
| Launch Date/Time | 3 Sep 2011 / 15:00 |
| Height Gain | 0ft |
| Flight Duration | 0h 05m |
| Comments | Mini XC back to the hanger where I packed up. |