Overcast at Mendlesham
My name was down for towing on both the Saturday and the Sunday, but I could only manage one day. The rain forecast for Saturday was the deciding factor. Arriving at Mendlesham around 11am the sky looked overcast with a moderately low cloud base with gentle westerly breeze.
As we all rigged our gliders a few drops of rain fell. By the time my own glider was rigged I was sheltering underneath it whilst the heavens opened! The hanger then became the social focal point as Mike prepared cups of tea and hot chocolate for all. This was also a good opportunity for Chris T, a pilot from the Southern Club, to get acquainted with everyone and to sort his chest release.
Soon the rain had passed and winching commenced. Richard H would take the first two tows. With minimal height gains, Richard's verdict was of lots of sinking air. His description of the tows was, "It felt like someone was sat on the nose of my glider!".
Flight 1
Eventually my turn came round. Launch was fine, but soon after first release my glider yawed from side to side and it didn't want to climb, no matter what I tried. My glider simply felt awful and I was convinced that I had miss-rigged it. With that growing thought in mind, I waggled my legs and released early - I wanted down!
Fortunately as soon as I released, my glider settled down and felt normal. It was then a quick dash back to launch where I touched down. That must have been that horrible air that Richard had mentioned.
Thinking about it afterwards, I assumed the horrible air was a result of the earlier ran and the subsequent mild burning off of all that moisture zapping the energy from the air.
Flight 2
My second tow was much better, the sinking air was gone and my tow up was very smooth. On release it was simply a slow return back to earth, concluding with another non eventful landing on the runway; just the sort of landings that I like!
Flight 3
My third tow regressed me back to being a numpty! During the tow I didn't feel the tension back off for my first release, so pulled the bar in and operated the release lever. Everything went quite and after a few seconds of confusion I realised I'd double released! Numpty! I contemplated if I had enough time to turn back towards launch, the thought was to reduce the distance to carry the glider back, but I quickly realised that's how the majority of accidents happen so continued on my flight path until I safely landed!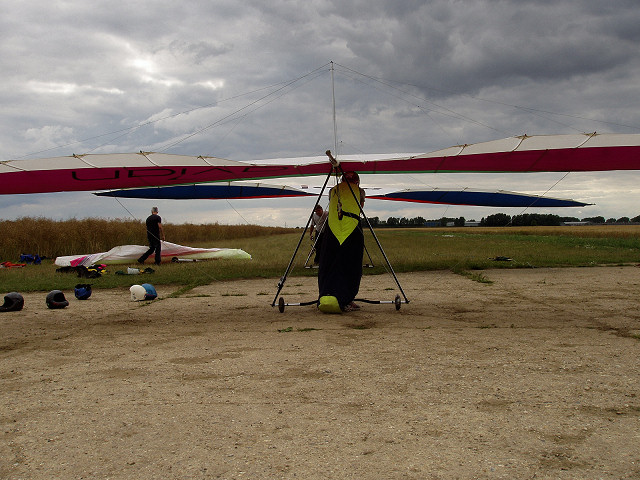 Gliders Queueing
The launch queue at Mendlesham at the stormy skies above.
1 Aug 2010

Flight 4
After my double release my brain was engaged at this flight went to plan. The wind having increased resulted in a higher top release, but again, no lift could be located on my journey back to launch.
Flight 5
A good tow and release and time to fly the glider fast and to do some tight turns. I will admit to feeling a little weird after seeing the scenery spin around so quickly! Again, I landed in the light winds without event!
Flight 6
After release I bumbled around the sky trying to seek some lift. It wasn't until I was almost over the hanger when I spotted some skylarks zipping around. I decided to join them and connected with some air 'slightly' rising above the hanger. After 2 360's and a couple of S turns I was probably too low to push my luck further and landed.
Flight 7
A very nice smooth takeoff and tow to around 700 feet. After releasing didn't connect with any lift until I was near lunch. There I completed a couple of 360's but didn't notice the approach of the Shadow microlight. As soon as I landed I heard a whistle from launch, turning to see what was going on I saw the Shadow on final approach. With that I moved my glider clear of the runway (into the crop) and the Shadow landed.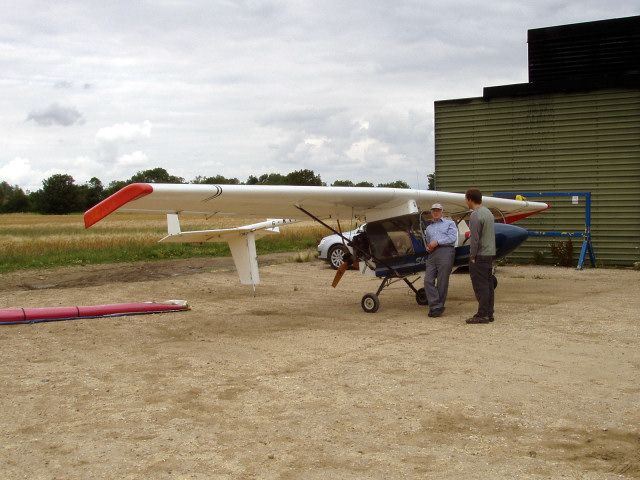 The Shadow
The Shadow and its pilot as I pack up my glider at the end of the day.
1 Aug 2010

Carrying my glider back to launch, I collapsed my glider then packed it away. Considering the conditions of the day, the minimal lift, I had an exceptionally good time and returned home with a big smile on my face!
Flight Details
| | |
| --- | --- |
| Flight Type | Winch Launch |
| Glider | AirBorne Sting 3:168 |
| Site | Mendlesham |
| Launch Date/Time | 1 Aug 2010 / 00:00 |
| Height Gain | 500ft |
| Flight Duration | 0h 03m |
| Comments | Horrible sinky air on tow |
---
| | |
| --- | --- |
| Flight Type | Winch Launch |
| Glider | AirBorne Sting 3:168 |
| Site | Mendlesham |
| Launch Date/Time | 1 Aug 2010 / 00:00 |
| Height Gain | 550ft |
| Flight Duration | 0h 04m |
| Comments | |
---
| | |
| --- | --- |
| Flight Type | Winch Launch |
| Glider | AirBorne Sting 3:168 |
| Site | Mendlesham |
| Launch Date/Time | 1 Aug 2010 / 00:00 |
| Height Gain | 150ft |
| Flight Duration | 0h 01m |
| Comments | Double release |
---
| | |
| --- | --- |
| Flight Type | Winch Launch |
| Glider | AirBorne Sting 3:168 |
| Site | Mendlesham |
| Launch Date/Time | 1 Aug 2010 / 00:00 |
| Height Gain | 750ft |
| Flight Duration | 0h 04m |
| Comments | |
---
| | |
| --- | --- |
| Flight Type | Winch Launch |
| Glider | AirBorne Sting 3:168 |
| Site | Mendlesham |
| Launch Date/Time | 1 Aug 2010 / 00:00 |
| Height Gain | 700ft |
| Flight Duration | 0h 04m |
| Comments | |
---
| | |
| --- | --- |
| Flight Type | Winch Launch |
| Glider | AirBorne Sting 3:168 |
| Site | Mendlesham |
| Launch Date/Time | 1 Aug 2010 / 00:00 |
| Height Gain | 600ft |
| Flight Duration | 0h 04m |
| Comments | |
---
| | |
| --- | --- |
| Flight Type | Winch Launch |
| Glider | AirBorne Sting 3:168 |
| Site | Mendlesham |
| Launch Date/Time | 1 Aug 2010 / 00:00 |
| Height Gain | 600ft |
| Flight Duration | 0h 04m |
| Comments | |