Stormy Skies Over the Devils Dyke
I turned up not thinking I was going to fly for around 6pm. My glider had been on the car roof in the office car park so I thought "What the hell; why not pop up and have a look?". As I drove to the Dyke I was aware of some very active air above and rather hoped no one was flying.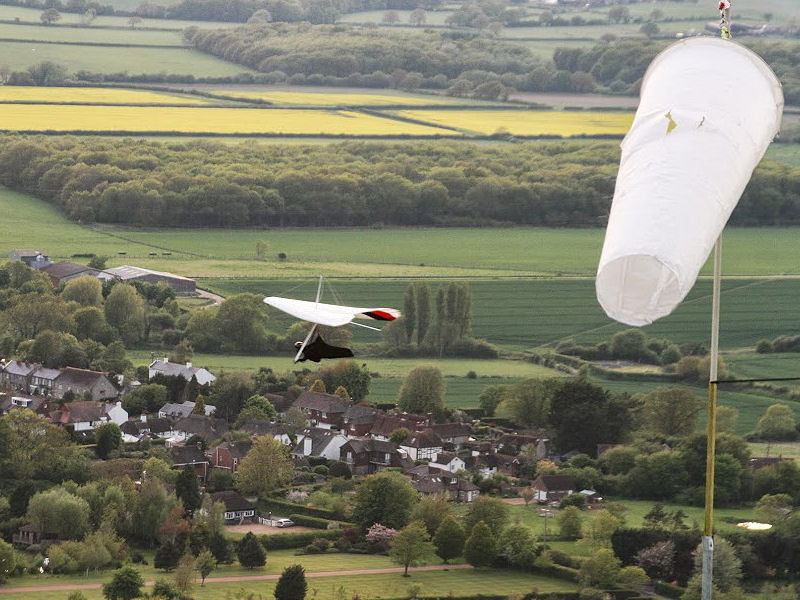 AirBorne's Sting 3:168
The Sting 3:168 on a gentle sled ride to the bottom landing field in nil winds!
23 May 2013

As I arrived the rain passed and a lovely blue hole opened out front. One person was thinking about flying a PG but between us we decided the wind was on the high side for PG's and something could be seen brewing over the North Downs.
Stormy Skies Over the Devil's Dyke
After resisting pressure to launch before the storm, my glider gets a good wash in the rain before the storm clears and I embark on a top to bottom. Miles then follows on his paraglider and rewards Nicos and myself with a classic landing!

00:01:01

Thursday 23 May 2013

Nicos and Miles soon appeared and we stood around contemplating what to do. I was still very mindful of the brewing clouds over the North Downs, so my glider stayed on the roof and we continued to chat. 30 minutes passed and it was still very flyable, so, with a bit of encouragement from the others, my glider was removed from the car roof and I began to slowly rig it - still with a watchful eye to the north.
Eventually my glider was ready and Nicos and Miles were convinced I could get 10-15 minutes soaring in before any weather arrived. However, my inner voice was telling me something different and I listened to it! That weather out front will be here soon along with a gust front and a squall of rain. I made my prediction to Nicos and Miles; rain in 10 minutes and a gust front.
It took 13 minutes for my prediction to come true and I think Nicos was probably most surprised by the gust front! It ripped the windsock out of the ground and for a few minutes, I decided to hold the nose down on the glider, just in case!
Meanwhile, someone (Ian) was spying our activities from afar and posted commentary on the On Tour email thread. Equipped with a smart phone I was able to provide live pictures from the top of the hill and inform him that I'd make the most of the rain and give my glider a good wash! I think Ian thought I was joking!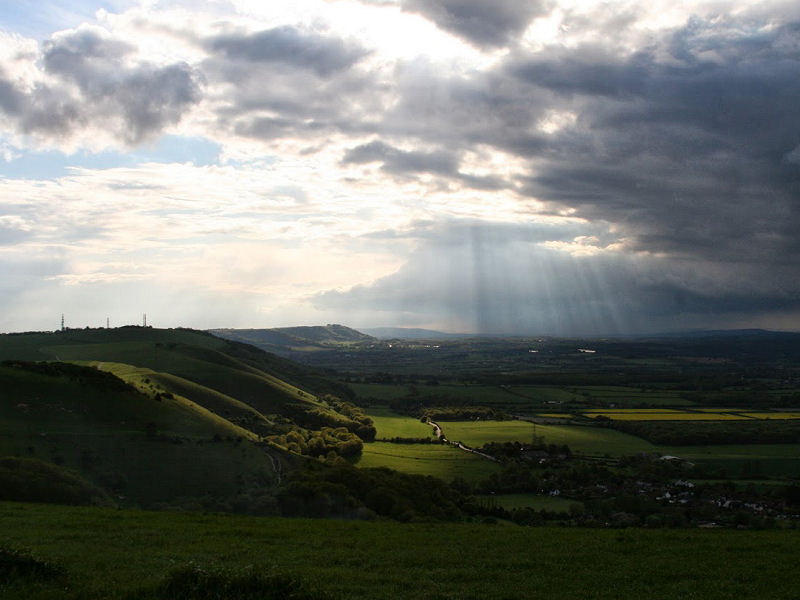 The Passing of a Storm
As the storm dissipates, the sun begins to break through. Photograph By Nicos.
23 May 2013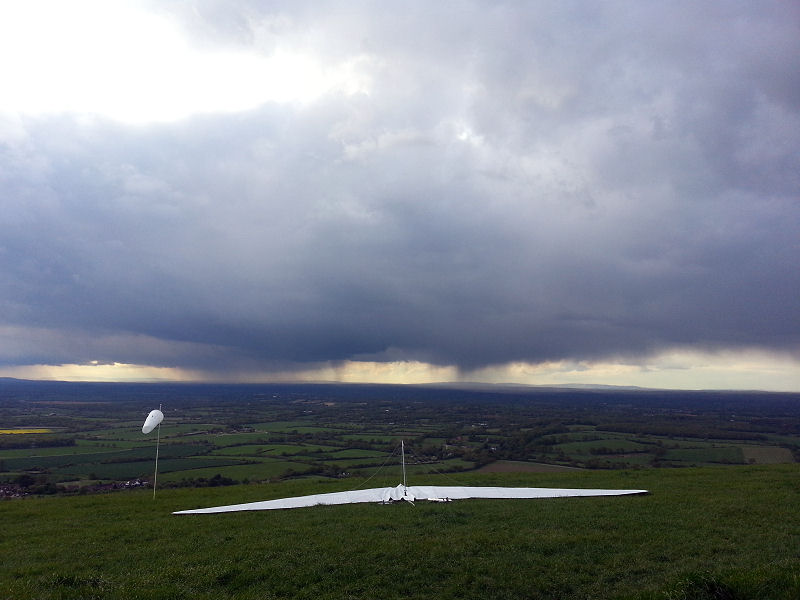 Approaching Storm
As my glider lays rigged on the ground a storm approaches.
23 May 2013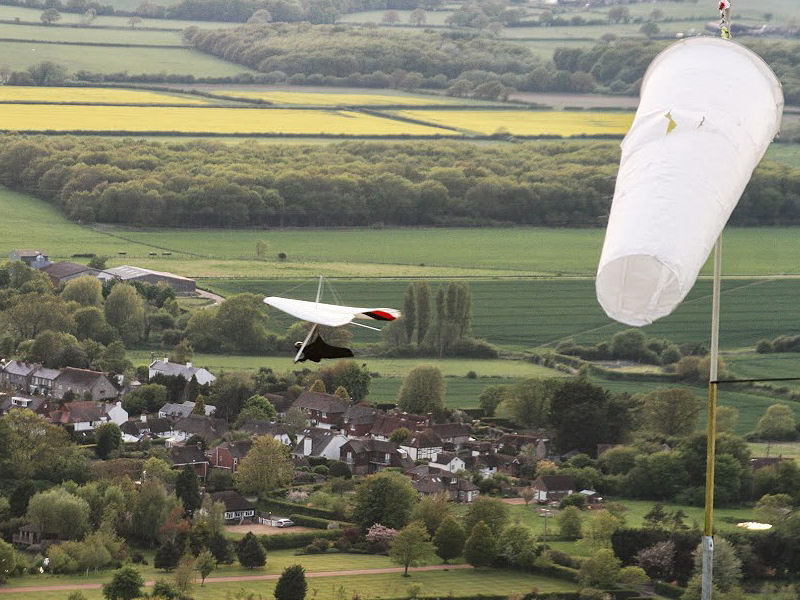 Dan in Flight
Dan on his Sting 3:168 heading towards the bottom landing field. Photograph By Nicos.
23 May 2013

As the rain passed my glider was back to a crisp white (gone are all the sheep shit stains from Bo Peep). The sky was now beautiful and clear and the wind had now significantly dropped. There was no chance of soaring; however, with my glider now on the A-frame and wiped down, I decided on a quick top to bottom. Nicos kindly offered to come and collect me. So off I went.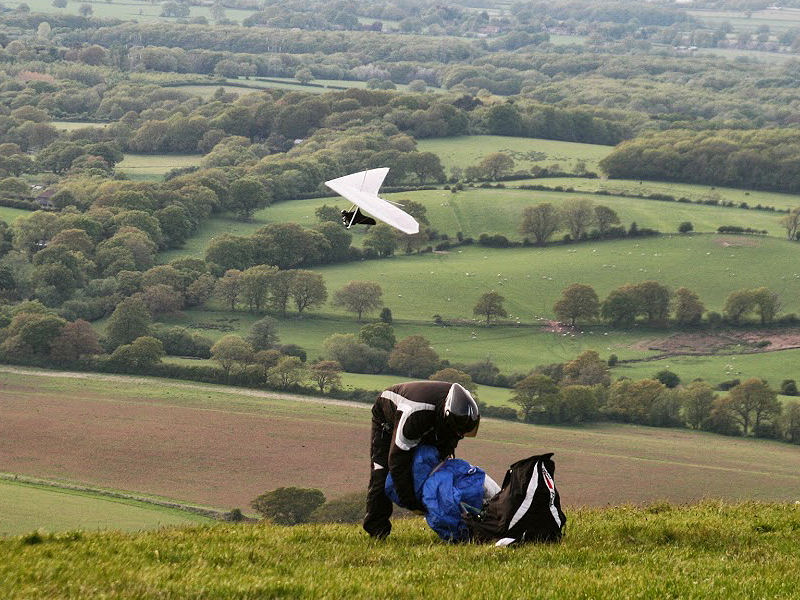 Dan in Flight
As Dan gets into the air in the light conditions, Miles prepares his paraglider. Photograph By Nicos.
23 May 2013

I was pleased with my precision landing at the bottom on the track, avoiding any unnecessary crop damage, and it wasn't long before Nicos was down to collect me. Meanwhile, Miles had now pulled his PG out (I didn't know he was biwingal), and was slowly on his way down. When he arrived, he arrived in style! And the PG's say Hangies can't land! I've got it on video and will post soon; hopefully with some time lapse footage of the approaching gust front and squall of rain!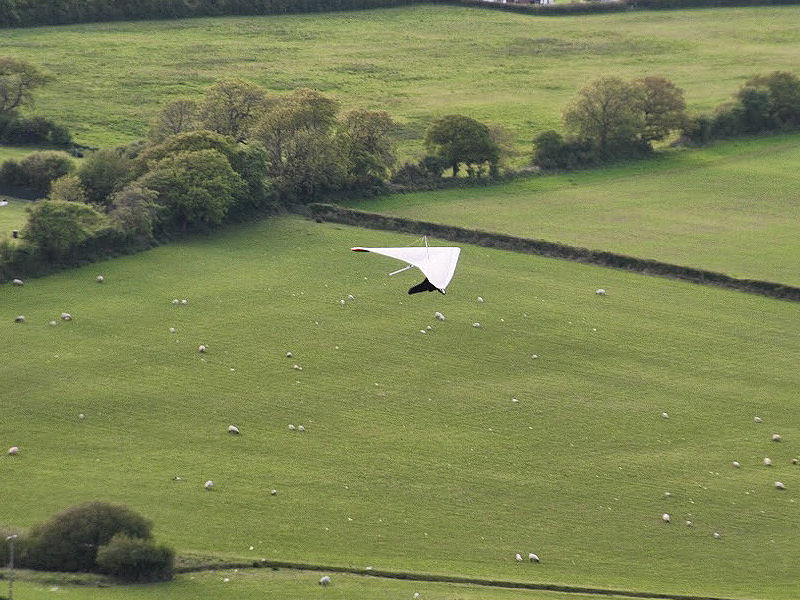 Dan in Flight
Dan on his Sting 3:168 heading towards the bottom landing field. Photograph By Nicos.
23 May 2013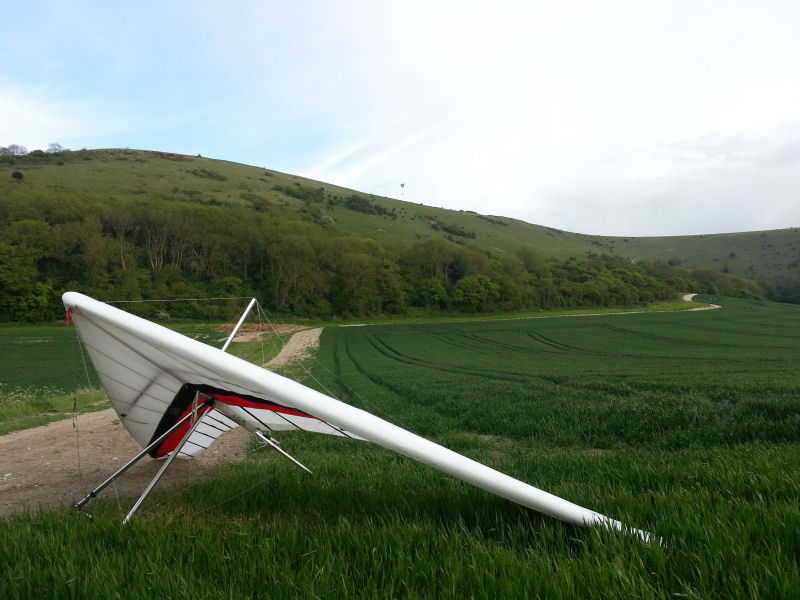 Bottom Landing
After a few beats along the ridge I land on the track at the bottom of the Dyke.
23 May 2013

Flight Details
| | |
| --- | --- |
| Flight Type | Hill Launch |
| Glider | AirBorne Sting 3:168 |
| Site | Devil's Dyke |
| Launch Date/Time | 23 May 2013 / 19:30 |
| Height Gain | 0ft |
| Flight Duration | 0h 03m |
| Comments | A quick top to bottom after a storm passes overhead. |