7 Hours for 30 Seconds!
This tuned out to be a bit of a non event. The days leading to today I'd been monitoring the weather forecast. Locally the forecast was east to north east and strong. That inferred Bo Peep as a possibility, but I know the bottom landing is currently in crop and I'm still not confident on reliable top landings. The wind direction was a little off so I ruled out Bo Peep. That left Corton, a coastal site used by the Suffolk Coastal Floaters Hang Gliding Club up in Suffolk. It's a 140 mile drive there so I wanted to go there only if it was on. Weather forecasts and early morning reports from the site confirmed this, so I packed up and drove the 140 miles in around 3 hours.
Sadly, arriving at site it was evident that the conditions were weakening so I quickly rigged and positioned myself at launch. With the assistance of other pilots I launched and flew down the slope skimming some foliage with my left wing (not that I noticed). It was pretty much a one way ticket and as I neared the sea defences I felt a bit of lift under my left wing, not enough to keep me aloft, but enough to turn me out to sea. A quick weight shift followed by a flare and I was down and back on my feet, but not in the sea. I'd estimate flight duration of around 30-40 seconds, not great considering the 7 hour round trip!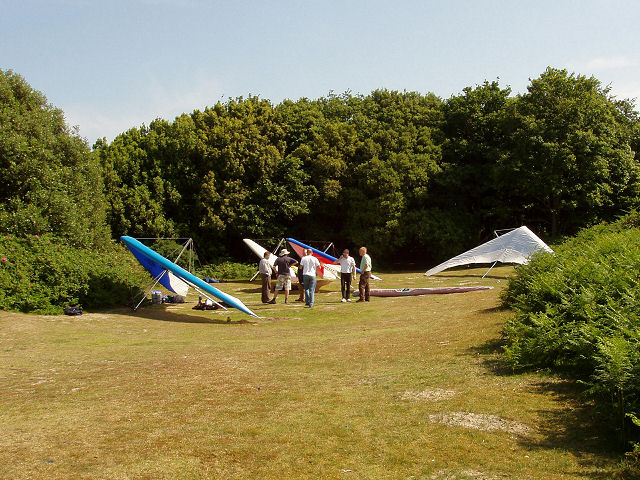 The Rigging Area at Corton
Gliders being rigged at Corton, Suffolk.
25 Jun 2009

On a positive point, it's a new site flown and I now know where Corton is (I just need to update by TomTom POI for future trips).
Flight Details
| | |
| --- | --- |
| Flight Type | Hill Launch |
| Glider | Aeros Target 16 |
| Site | Corton |
| Launch Date/Time | 25 Jun 2009 / 00:00 |
| Height Gain | 0ft |
| Flight Duration | 0h 01m |
| Comments | |