Hot and Humid in Suffolk
Looking at the sky as I drove to Suffolk it looked like an inversion was established and with the high-level cloud, any thermal activity would be minimal. It had been over a month since I last visited the tow field and despite the not so inspiring sky, I was keen to get on the winch and in the air.
Arriving at Mendlesham the wind was a light south-easterly and the runway was being prepared for a easterly launch. The first two tows were not of any great height but the air was tempting us with whiffs of lift. I was to be the third launch of the day but the wind had now swung around more to the south making all launches cross-wind. It was decided to relocate the entire winch operation to Mickfield Hall and use the farm track orientated in a north/south direction. This would be much better for the now established wind direction.
Still at the east/west runway of Mendlesham, I was asked if I was happy to launch with the cross wind and complete a short XC to Mickfield. I happily agreed and commenced my first launch. Due to the cross wind, I only managed 450 feet on tow and feeling the winch brakes being pulsed on and off signalling me to release, I released and set off in the direction of Mickfield.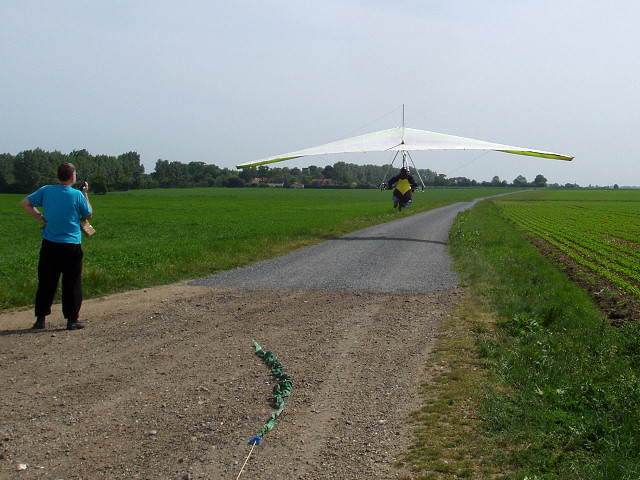 Paul Launching
Paul launching on the Mickfield Hall track.
5 Jun 2010

Crossing the power lines my vario made a few beeps and I acknowledged this with a quick 360. I'm not too sure if this paid dividends so I continued towards Mickfield when again my vario squeaked another set of beeps followed by me performing another quick 360.
It was now an easy glide to Mickfield. Burning of some excess height along the northern boundary of the field I set-up my landing and touched down with a no step landing.
A short while later I was joined by more pilots and eventually the entire winching operation resumed at Mickfield. Now that we were launching into wind everyone achieved higher tows but with no notable thermal activity, every launched resulted in the inevitable journey back to launch.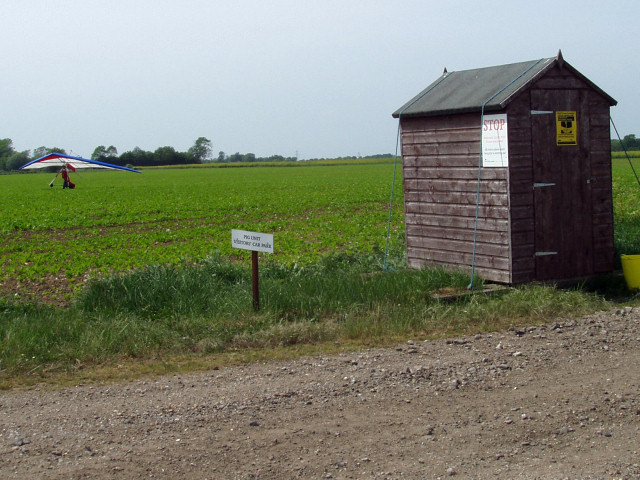 Pig Unit
The sign reads, 'Pig Unit Visitors Car Park'... Okay then...
5 Jun 2010

Overall a very, very warm enjoyable day and great to be back out with the Suffolk Coastal Floaters!
Flight Details
| | |
| --- | --- |
| Flight Type | Winch Launch |
| Glider | AirBorne Sting 3:168 |
| Site | Mendlesham |
| Launch Date/Time | 5 Jun 2010 / 00:00 |
| Height Gain | 498ft |
| Flight Duration | 0h 06m |
| Comments | |
---
| | |
| --- | --- |
| Flight Type | Winch Launch |
| Glider | AirBorne Sting 3:168 |
| Site | Mickfield Hall |
| Launch Date/Time | 5 Jun 2010 / 00:00 |
| Height Gain | 600ft |
| Flight Duration | 0h 04m |
| Comments | |
---
| | |
| --- | --- |
| Flight Type | Winch Launch |
| Glider | AirBorne Sting 3:168 |
| Site | Mickfield Hall |
| Launch Date/Time | 5 Jun 2010 / 00:00 |
| Height Gain | 798ft |
| Flight Duration | 0h 05m |
| Comments | |